Our Ten Essential Travel Accessories - By Nadia Stoli from LoveTrotters.net
The original blog post (in French) can be found on the LoveTrotters.net blog here.

There are some accessories that are lifesaving while travelling. They avoid all kinds of discomfort and headaches, including bed bugs and theft. You see travel is not always glamorous. So here are the 10 travel-tested and approved accessories that are absolutely ESSENTIAL.

#1 The Wheeled Backpack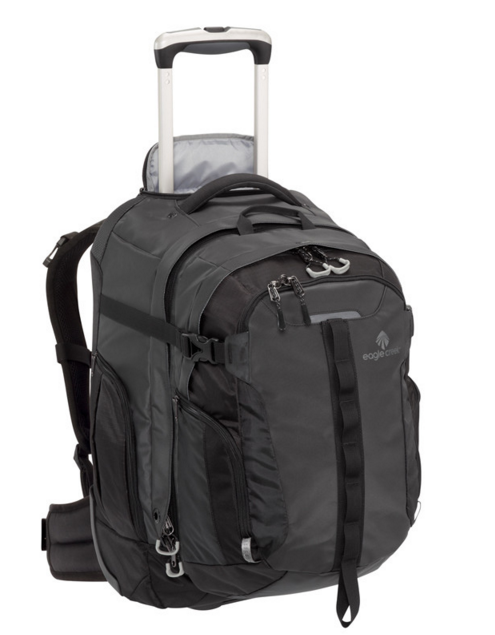 The backpack can be your best friend or your worst enemy when traveling. We did so much research on various travel bags that we deserve a diploma. We finally settled on a sort of hybrid between a flexible rolling suitcase and a backpack. It turned out to be the perfect compromise. It's a bit stiffer and heavier than a traditional backpack, but it is much more versatile and, above all, it helps avoid back pain. Believe it or not, we have never had to carry our big backpacks on our
backs, ever! I hear hardened backpackers grumble from afar "you're not a real backpacker if you don't carry at least 20kg on your back." And I retort: "So be it! Rather than joining the perfect little backpacker club, I prefer to spare my poor spine and watch the "real" backpackers suffer under the weight of their bag while I frolic in the airports light as a feather. "
We have only praise for the merits of the Eagle Creek Switchback. It is solid as a rock and doesn't have a single scratch, even after 2 years of intensive travel in all conceivable conditions. It is the perfect airplane carry-on size so we can avoid checking it, which saves us time and money. It comes with a small detachable daypack that can zip on or off to use as hand luggage.
You can purchase the Eagle Creek Switchback from the Jet-Setter travel store in Montreal or order it online here.
There is also a less expensive version, the Eagle Creek Doubleback Combo that you can also order online here.
#2 Packing Cubes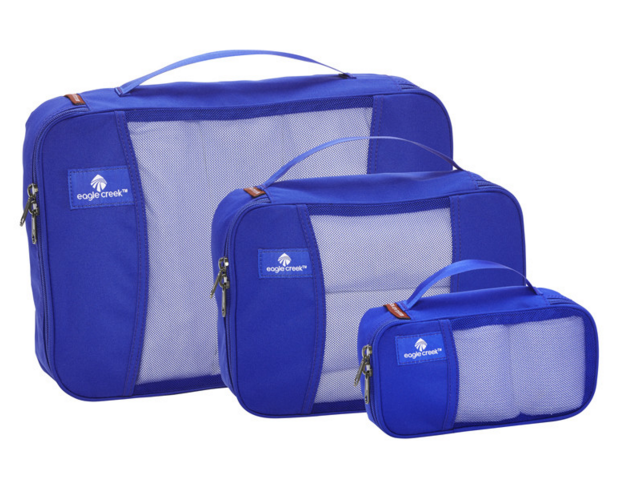 We can't do without these storage cubes that help compartmentalize our lives into one bag while providing easy access and maximizing the available packing space. Two enemies of a traveler are the weight and volume of luggage. By rolling our clothes into these small bags we can compress their volume. Plus the cubes fit together perfectly like a Tetris game, reducing wasted space. Still, you should avoid packing your entire wardrobe. When traveling, "less is more".
You can purchase the Eagle Creek Packing Cubes from the Jet-Setter travel store in Montreal or order them online here.
#3 Inflatable Neck-brace Pillow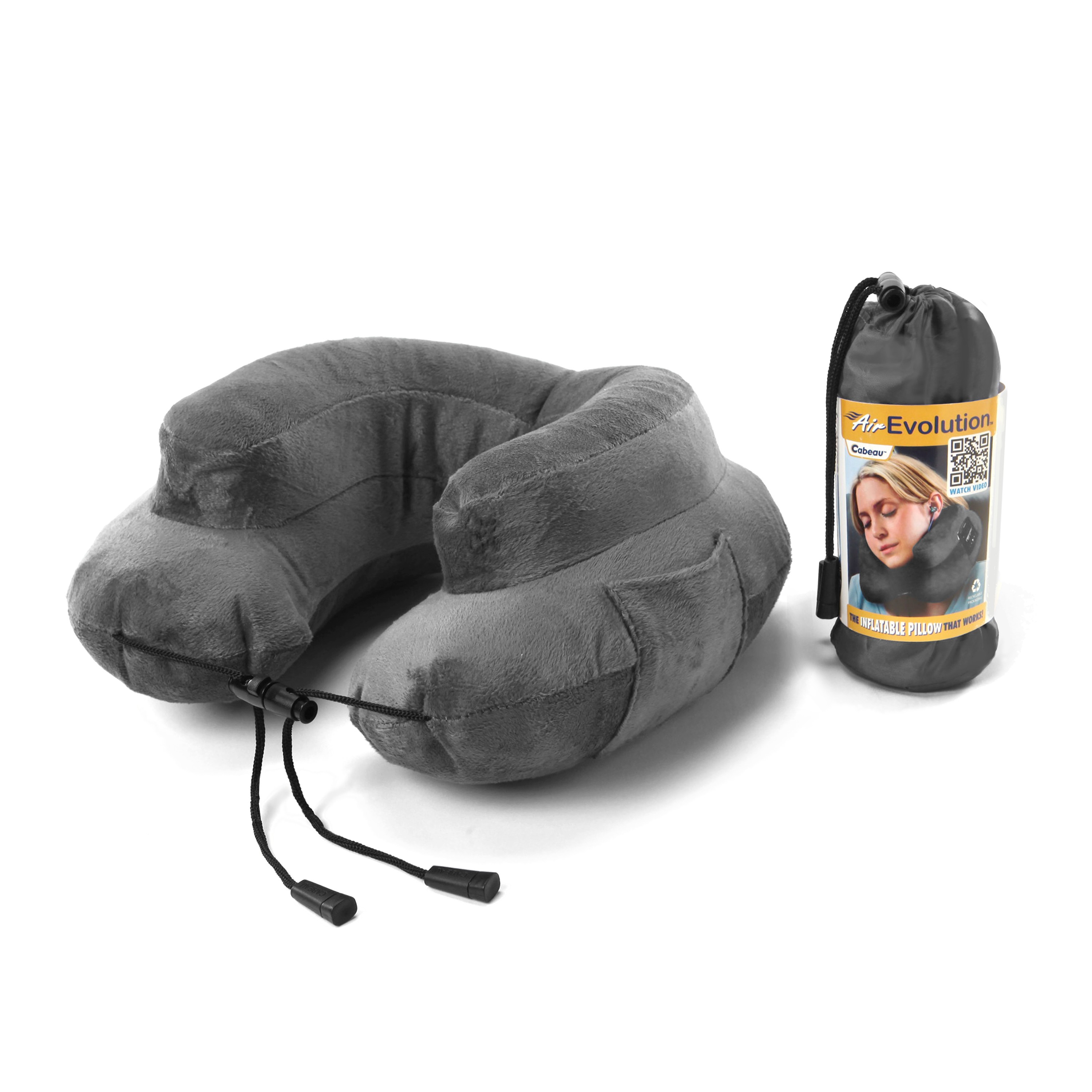 Often travel is synonymous with interminable trips in cramped quarters. For someone like me who has trouble sleeping in transit, I found my best companion. The Air Evolution neck pillow has an inflatable collar that keeps the neck and head in a comfortable position so you can sleep like a baby in your seat. Farewell stiff neck and back pain! Most headrests are too big and bulky. This pillow compresses into a tiny, compact pouch. But the biggest advantage is that the cover is easily removed to wash all the drool, hee hee.
You can get the Air Evolution Inflatable Neck Pillow at the Jet-setter travel store in Montreal or order it online here.
#4 Travel blanket-jacket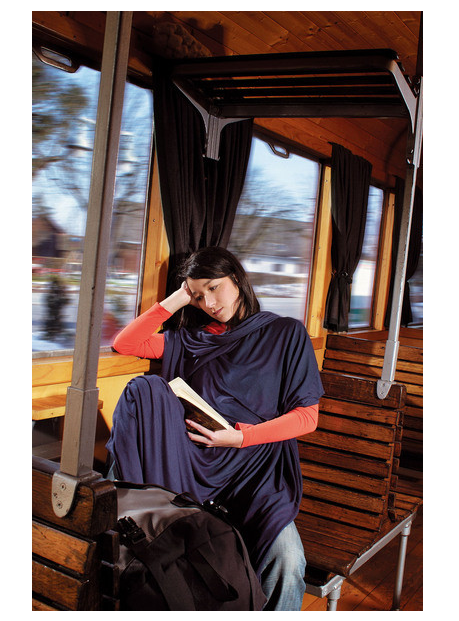 I don't know if it's just me but I'm always freezing cold in transit. Why are they trying to recreate Canadian winter conditions in tropical countries? Unable to solve this mystery, I take refuge in my Cocoon blanket and avoid catching a cold on buses, boats and planes while outdoors it's 30 degrees in the shade.
You can purchase the lightweight Cocoon Coolmax Travel blanket from the Jet-setter travel store in Montreal or order it online here.
#5 Retractable padlock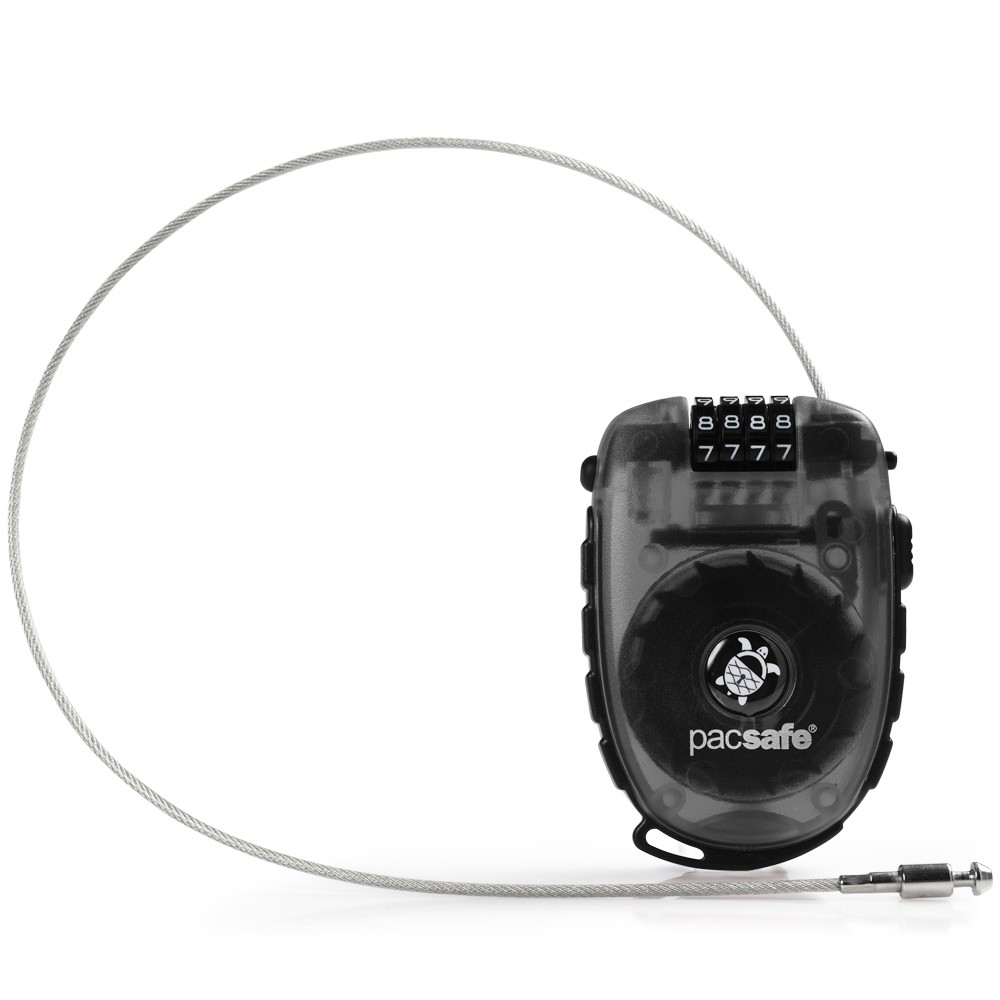 This lock is actually a long wire protected by a 4-digit code that can be used to secure one or more pieces of luggage together or attach them to something immobile. This is particularly useful during long trips by bus or train because you can sleep with peace of mind knowing that your most precious possessions are safely attached to a chair, a beam or a luggage rack. It's also practical in youth hostels where living spaces are shared and opportunistic theft is frequent. It's a small accessory but such an effective deterrent that we
have never been victims of theft. When traveling, we have to remain vigilant without becoming too paranoid.
You can purchase the PacSafe Retractasafe from the Jet-Setter travel store in Montreal or order it online here.
#6 Worldwide universal adapter with USB ports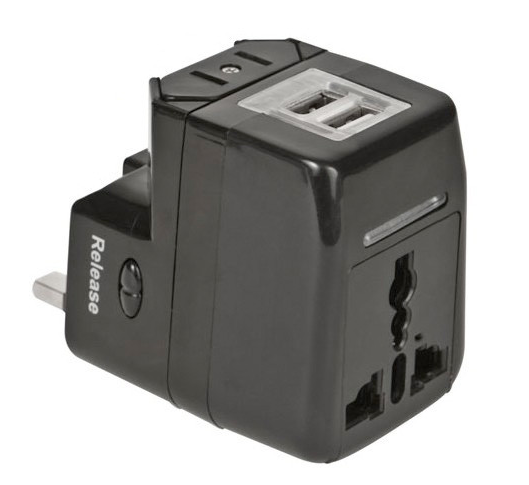 Until countries agree to use ONE standard electrical outlet throughout the world, this little accessory is a must for any traveler. The integrated USB ports are especially useful to charge phones, cameras and the like as well as larger devices.
You can purchase the Worldwide Adapter and Dual USB Charger from the Jet-setter travel store in Montreal or order it online here.
#7 Anti-theft camera bag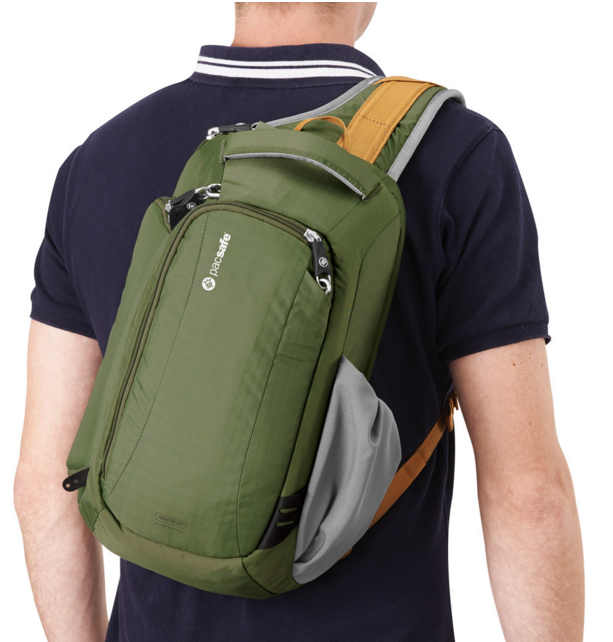 Our camera is our little baby that we cart around in our hands every day. Strolling in tourist areas with a flashy camera makes you an easy target for opportunistic thieves. Most photo equipment bags are especially conspicuous with their large logos and multi pockets. The Camsafe passes for a regular backpack but is equipped with a bunch of anti-theft
safeguards: It's enveloped with mesh wire, there are double security zippers and an RFID safe pocket etc. while still being compact and comfy.
You can purchase the PacSafe Camsafe Venture v9 anti-theft camera sling bag from the Jet-Setter travel store in Montreal or order it online here.
#8 Silk lining with integrated pillow case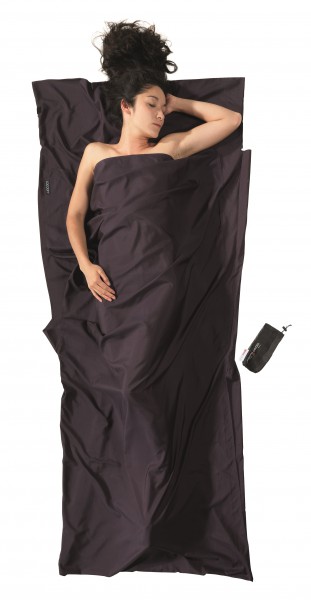 In Canada, in French a sleeping bag liner is called a "sac-à-viande". It's funny huh? Unlike the image of the pretty sexy girl on the packaging, we certainly look like a big sausage wrapped in one. The silk liner is essential, unless you always stay in 5 star hotels. We realized pretty quickly that the hygiene of youth hostels, guesthouses and other budget hotels leaves much to be desired (you remember our episode of bedbugs in Fiji?). I wrap myself in my silk bag like a caterpillar when we spend the night in questionable places. It's also useful as a liner in a rented sleeping bag, for example, and it can serve as a pillowcase. Made of silk, it breathes well and is neither too hot nor too cold.
You can buy the Silk Travel Sheet With Pillow Case from the Jet-Setter travel store in Montreal or order them online here.
#9 Fast-drying travel towel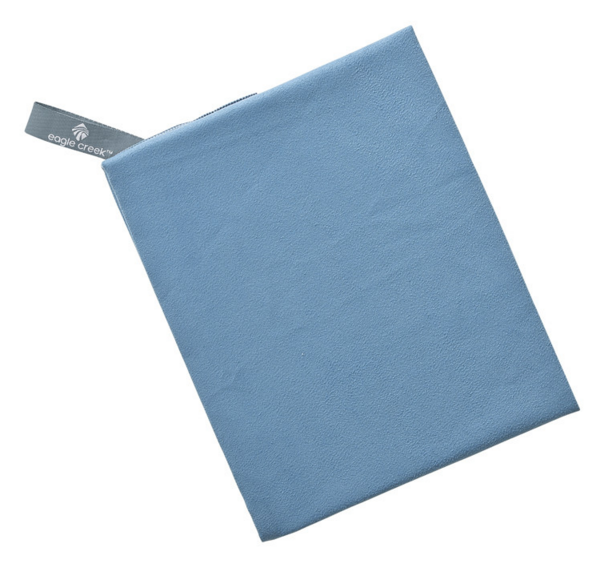 We're not crazy about the texture of microfiber travel towels. On the other hand we love that they are extremely lightweight, ultra-compact, super absorbent and dry in record speed. This towel is essential, especially in a humid climate where everything refuses to dry.
You can purchase the TravelLite Travel Towel from the Jet-Setter travel store in Montreal or order them online here.
#10 Money belt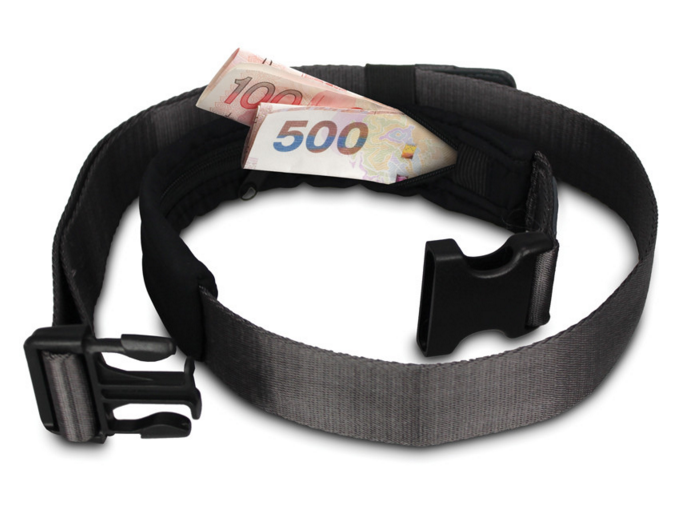 Mike finds this Cashsafe money belt particularly useful because it can discretely hide money, credit cards and even a passport unseen and unknown. This belt is the nightmare of pickpockets! In addition, it's lightweight and contains no metal, so he can wear it past the metal detectors at airports.
You can purchase the Cashsafe money belt from the Jet-Setter travel store in Montreal or order them online here.
Do you have an item that you cannot do without when traveling that we didn't mention? Do you want to give us some advice or a recommendation? Leave us your comment below!
The opinions mentioned in this article are the personal opinions of Nadia and Mike from LoveTrotters.net after having used these accessories while traveling.